Produktinformation
Kompakt, inomhus fast minikupol med damm- och vandalsäkert hölje, som erbjuder 360 ° / 180 ° panoramautsikt samt quad och digitala PTZ vyer. Enkel montering på vägg eller tak. Flera, individuellt konfigurerbara H.264 och Motion JPEG strömmar upp till 5MP upplösning vid 12 fps. MicroSD / microSDHC minneskort kortplats för lokal videolagring. Video rörelsedetektor och aktivt larm vid manipulering . Levereras med en 2 m (6.6 ft.) Nätverkskabel och drivs med hjälp av Power over Ethernet. Midspan ingår ej.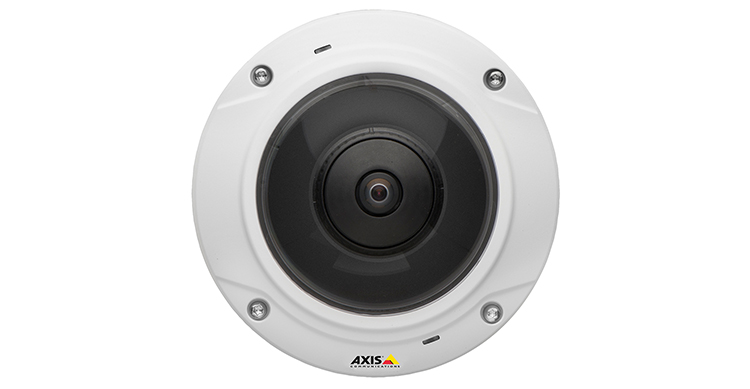 360° or 180° panoramic surveillance
The affordably priced AXIS M3007-PV Network Camera is a 5-megapixel fixed mini dome that provides detailed, high quality 360° or 180° panoramic views of areas as large as 650 m² (7,000 sq. ft.). The vandal- and dust-resistant indoor mini dome can be used to detect activities, track the flow of people and improve area management. The camera is ideal for retail stores, hotels, schools and offices.
Different views
AXIS M3007-P offers different views: 360° overview and dewarped views such as panorama, double panorama and quad views. The quad view is suitable, for instance, when the camera is positioned at an intersection of corridors.
The camera also provides four individually cropped out and dewarped view areas where users can digitally pan, tilt and zoom in on areas of interest. Multiple video streams in H.264 and Motion JPEG can be sent simultaneously.
Easy and flexible installation
AXIS M3007-PV can be mounted on a wall or ceiling. The camera comes focused at delivery, which shortens the installation time. It has a 2 m (6.6 ft.) network cable attached and supports Power over Ethernet (IEEE 802.3af), which eliminates the need for power cables and reduces installation costs.
Intelligent video and video management
AXIS M3007-PV offers video motion detection and active tampering alarm. The camera also supports the installation of intelligent video applications, such as people counting and heat mapping, through the AXIS Camera Application Platform.
Features
360°/180° panoramic views in up to 5 MP resolution

Compact, vandal- and dust-resistant design

Easy, flexible installation on wall or ceiling

Digital PTZ and multi-view streaming with dewarped views

Edge storage with support for microSDHC card