Dustin's management system
We integrate quality, information security, environmental protection and health & safety throughout the organization with the help of identified key processes. Our purpose is to make these areas a natural part of the daily job and to strengthen and maintain a sustainable culture. We also encourage suppliers to view these areas as a journey of continuous improvement.
We work with continuous improvements with a strong customer focus. Customer satisfaction is measured monthly and is the foundation when prioritizing and delegating resources to improvement projects.
The purpose of the security work is to safeguard and adequately protect information belonging to Dustin or that Dustin is entrusted with. We protect our customer's information against unauthorised access or misuse, secure confidentiality of information, maintain integrity of information and maintain availability of information and information systems.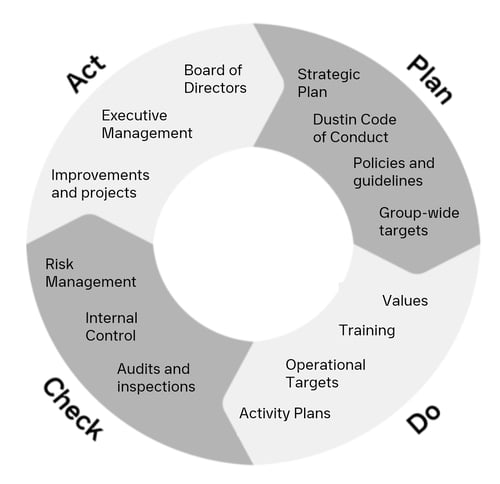 Through efficient and environmentally sound business practices we aim to reduce the adverse environmental impact and use resources efficiently. We utilize life cycle thinking in our work to continuously improve our own environmental performance, but also to more holistically work with the environmental impact of the products and services we offer our customers and consumers.
Our employees are key to our success and providing a healthy and safe working environment is essential to our business and in line with the ethical standards defined in our Code of Conduct. Our ambition is to have a workforce that is motivated and healthy – physically, mentally and socially.
Dustin Group is certified in ISO 9001 (quality), ISO27001 (information security) and ISO14001 (environment). In Sweden, Dustin is also certified in ISO 45001 (health and safety). Our certifications demonstrates that we strive to achieve efficient use of resources, holistic risk management and increased customer satisfaction.